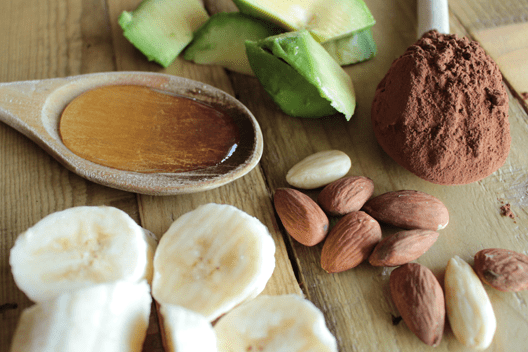 campervan food, easy does it
Spending a lot of time on the road in all sorts of circumstances, changing seasons and different countries you get creative with food. Well, the preparation of it…
I love the Seaside loves to share some delicious, nutritious recipes that are surprisingly simple to prepare, either in a campervan, holiday apartment or even campsite kitchen. Or at home, fantasising about your next journey.
Here's the first, instant success when shared with loved ones, friends or strangers. It soothes your chocolate craving AND boosts your energy in a healthy way. It's the best after-surf snack. Or before. Or in between. Ah, you know what, have it for breakfast with cereal, fill up your baguette with it for lunch and end your dinner with a bowl of this good stuff. Happiness guaranteed.
All it takes are these ingredients that are quite easy to obtain in supermarkets, better yet in the local markets when in season:
1 ripe banana
1 ripe avocado
1 handful of almonds
1 or 2 big spoons of honey – to your taste
1 or 2 big spoons of (raw) chocolate powder – to your taste
Optional: you can add a teaspoon of coconut oil or sesame oil to make it even smoother. When I'm in Morocco, I also like to add some fresh dates and a few drops of Amlou (Morocco's variation of peanut butter) or argan oil. Sprinkle with nuts, goji-berries or red pepper if you need a rush…
You can use a blender when you prepare this at home (or if you have one stacked in your fancy surf-vehicle), but you can easily use a fork and squash, crush and stir away until it's a smooth paste. Eat instantly or if you have strong willpower stash it away in the fridge so it will stiffen a bit. Enjoy!