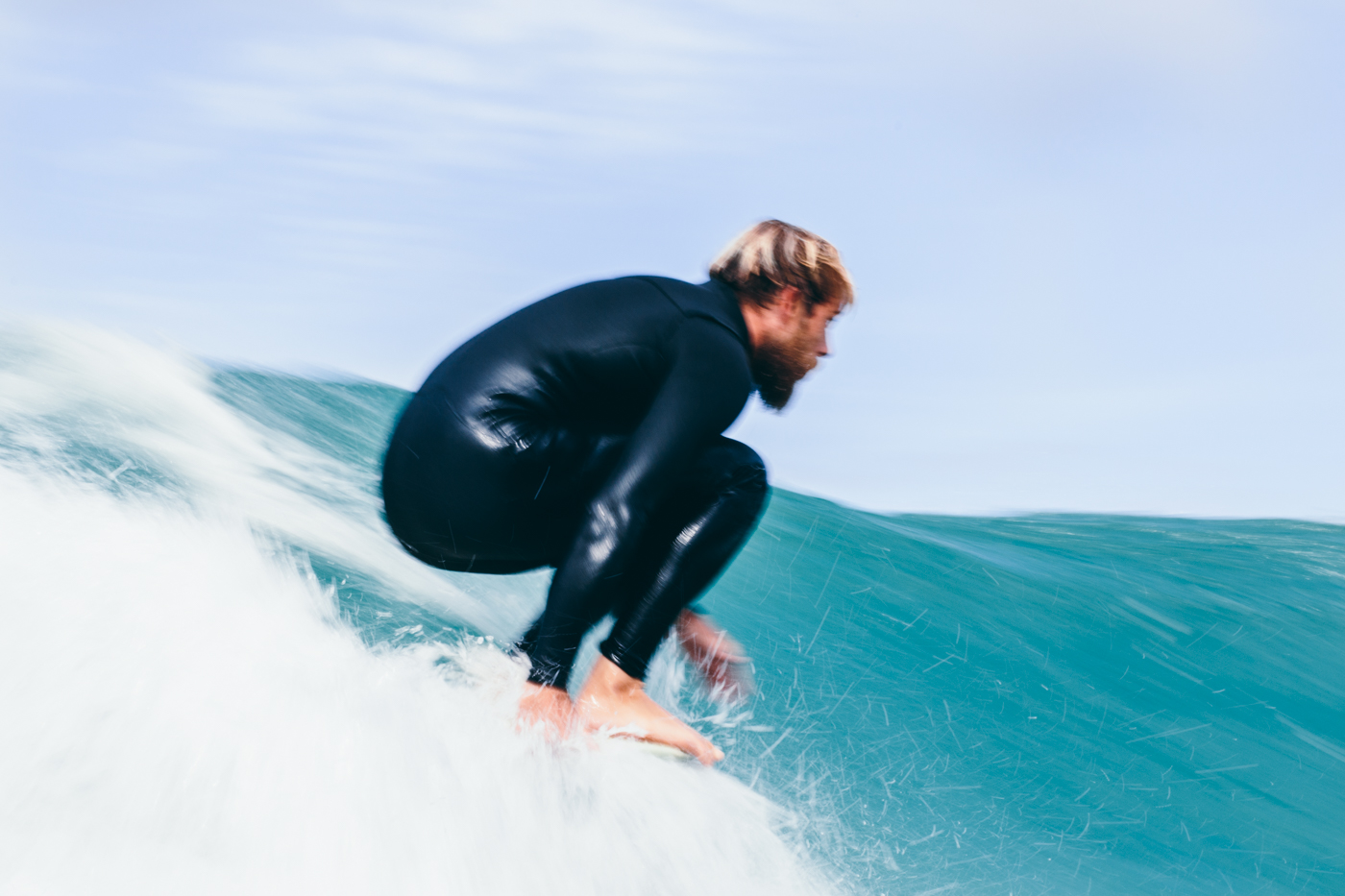 Behind the lens – Toby Butler
We feel very grateful to work with talented and creative people around the globe, and we'd like to introduce them to you. In this episode, meet Toby Butler, who contributed beautiful imagery to our Great Britain & Ireland guide, reflecting the local surf culture and telling a different story with each photo.

Words: Alexandra Gossink
Photos: Toby Butler
Toby's a photographer from South West England, who focuses on surf and sports culture. He spent most of his childhood, however, in Auckland, on the North Island of New Zealand, before moving back to the UK. Might this have sparked pursuing an outdoorsy kind of life?
"I think it did for sure. Moving around when I was younger helped open my eyes to the outdoors and instil a buzz around travel – when I came back to the UK with my family, I knew I wanted to go out and see more of the world. I still feel that way now and I still put that down to experiencing different ways of life as a kid."
Do you consider this idyllic corner of the world, Cornwall and Devon, to be home now?
We moved back to the UK following my dad's work, probably 10 years ago, and wound up in South Devon, which is where my family lives now; where I finished school, where I learnt to drive, all the rest of it. I was keen on skateboarding, which led to surfing, and once I and a couple of mates could drive, we spent every evening, every weekend, all the time we could in Cornwall. Sleeping on the back seats of a VW polo, on the beach, in hostels when we could. We would surf and I would also take photos. Devon is still home for me; I just spend more time in Cornwall!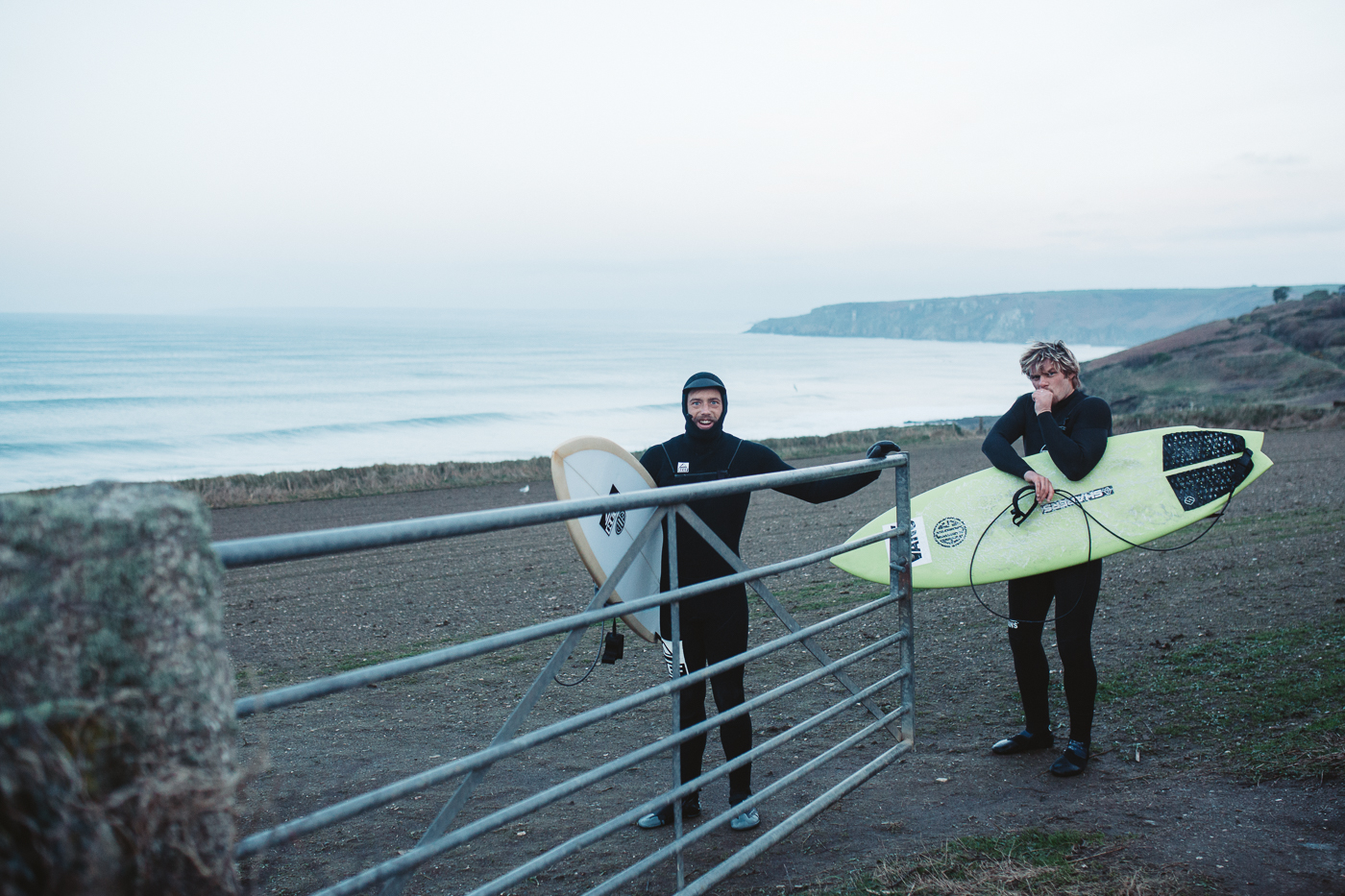 If I was to define your work in one word, it would be storytelling, every single one of your photos in our guide is like a little story or reflects a feeling – that feeling 'only a surfer knows'. Is this something you intentionally worked towards or did it gradually become your signature?
I think every time we went surfing as kids it was a story. We'd always have a mission in front of us before we put a wetsuit on and paddled out, so I think I subconsciously began to shoot that way and subconsciously admired other photographers that did. I've definitely noticed it since – looking at my style of work and thinking about what I could perhaps do differently from others. From that point onwards, it's been something that I've pushed in my work.
Do you always have a camera at hand, or carry out ideas you have, even not knowing if those photos will ever be published?
I don't carry a camera all the time. I go through stages. When I'm on a trip or project I shoot a lot and get into a different mode, but I often don't pick up the camera for a couple of weeks when at home. I'm always setting myself goals and shooting personal work, which includes a lot of other elements before picking up the camera. When I'm home I try to focus on that as much as I can so that I can focus on shooting when out amongst it. I think shooting for yourself is as important as landing a big commercial job. They are two different things, but each helps you grow as a photographer and creative.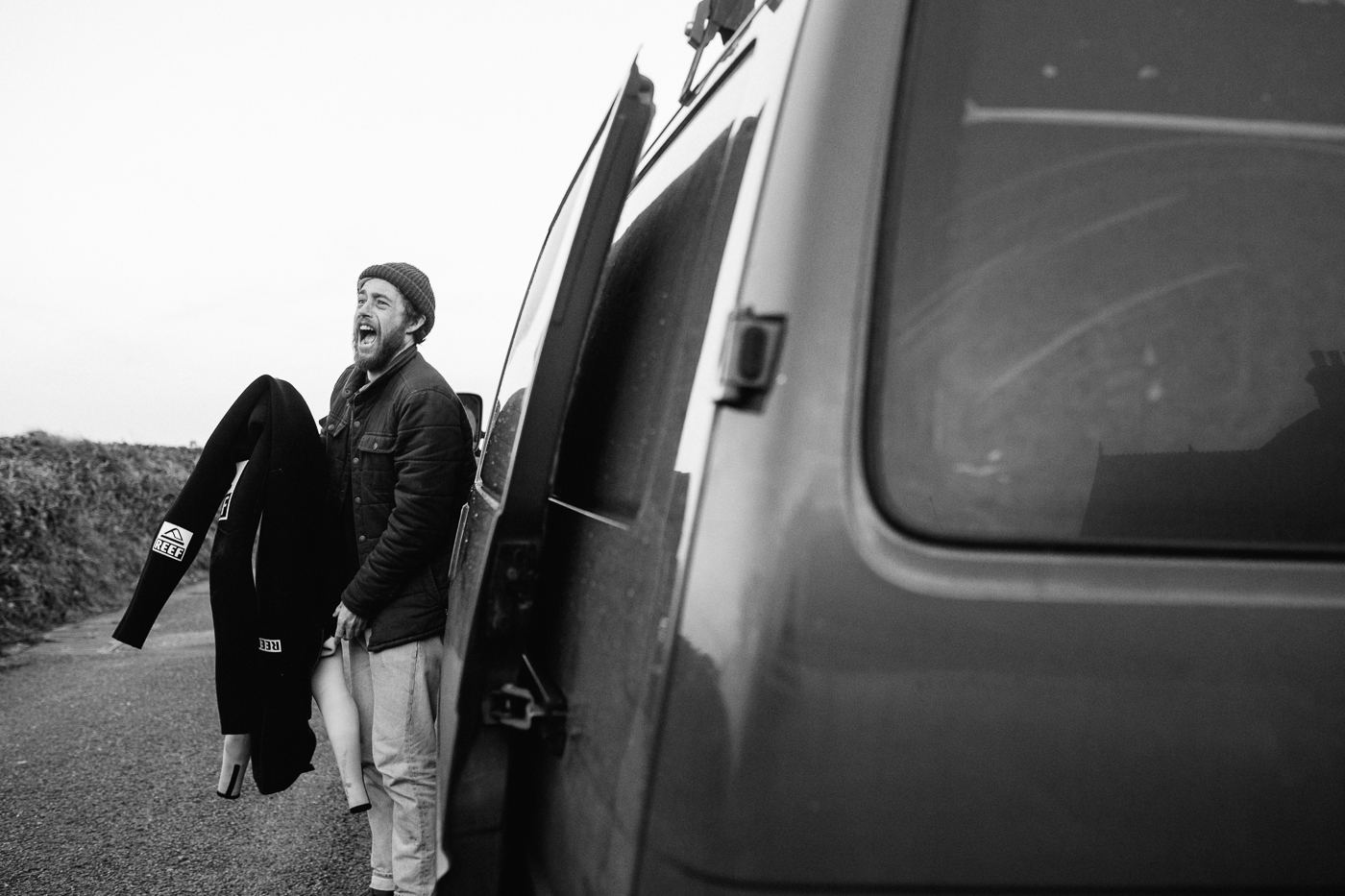 The photo of the guy turning his wetsuit right-side-out beside the car, big grin on his face, we all know this feeling so well. That stokedness, probably a cold, wetsuit still damp kinda morning… Staged or snapshot? Tell us about it!
Haha, yeah, I think I know the one. An early Feb morning, it was absolutely freezing and snowing for most of Cornwall. The south coast was pumping and I'd been staying with a few friends in Sennen, so we drove over before first light to try and avoid the crowds. I'd totally lost my voice by this point but was still out in the freezing morning, getting changed for a swim. We were all just cracking up and I decided to snap a photo. It was a real moment. Laughing out loud at ourselves and a cold dark morning at home.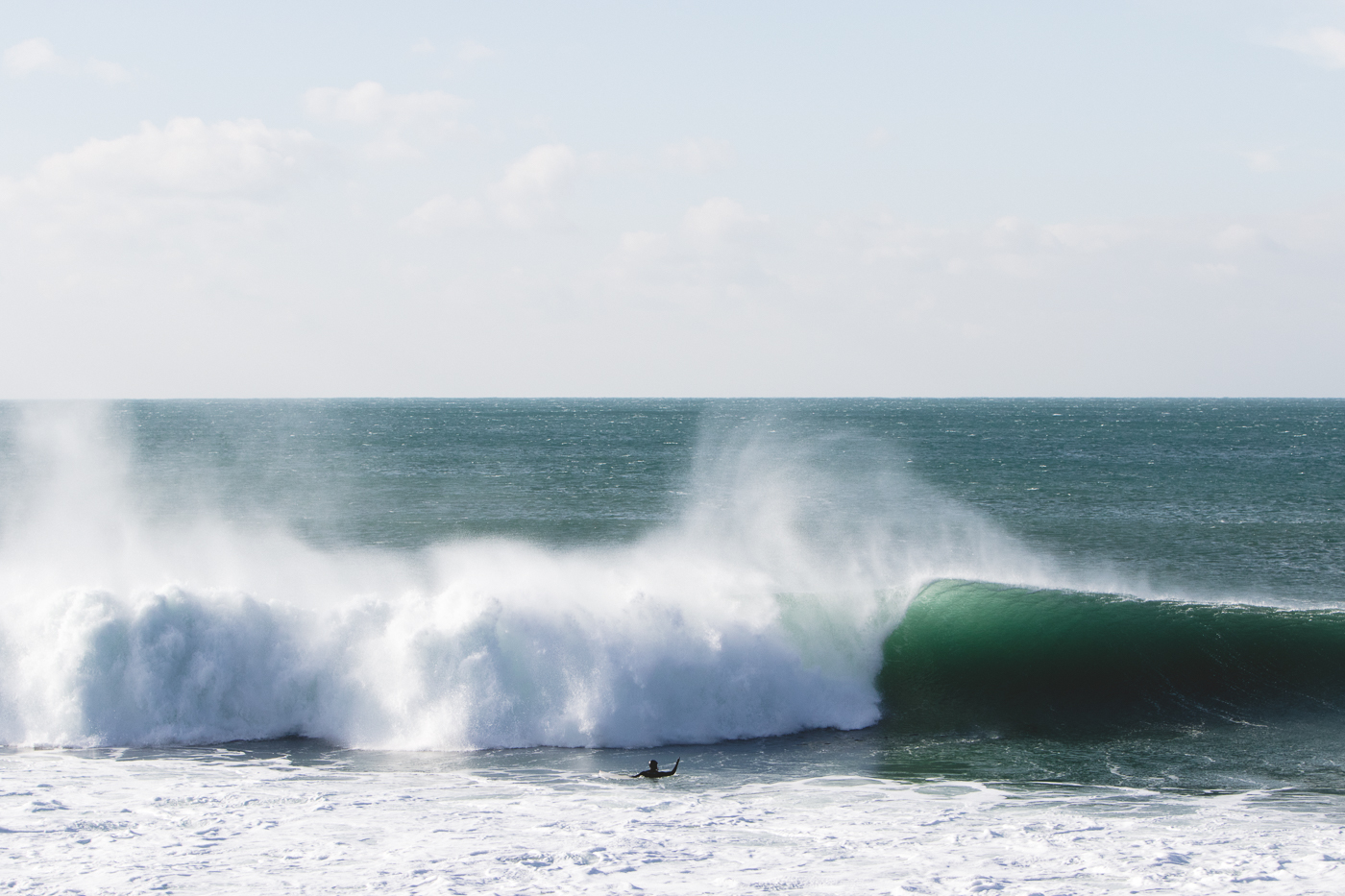 Your photography is more often than not connected to the ocean. What came first, surfing or photography?
My dad loves sailing and has had some sort of boat with him wherever we've lived since I can remember. I would spend days at sea as a kid, and if not on his boats, then friends' boats; trying to fish, dive, cook, sail. This showed me the sea and introduced me to so much that I admire in life now. The ocean came first, then photography, then surfing.
Is there something you fiercely want to achieve or is going with the flow of what life offers more your kind of style?
There are still loads of things I want to achieve, places I want to see, waves I want to shoot, projects I want to bring to life but I don't feel a mad rush to get these things done. Being in the moment is important to me and letting life nudge me here and there helps me to keep an open mind. I'd say a mix of the two.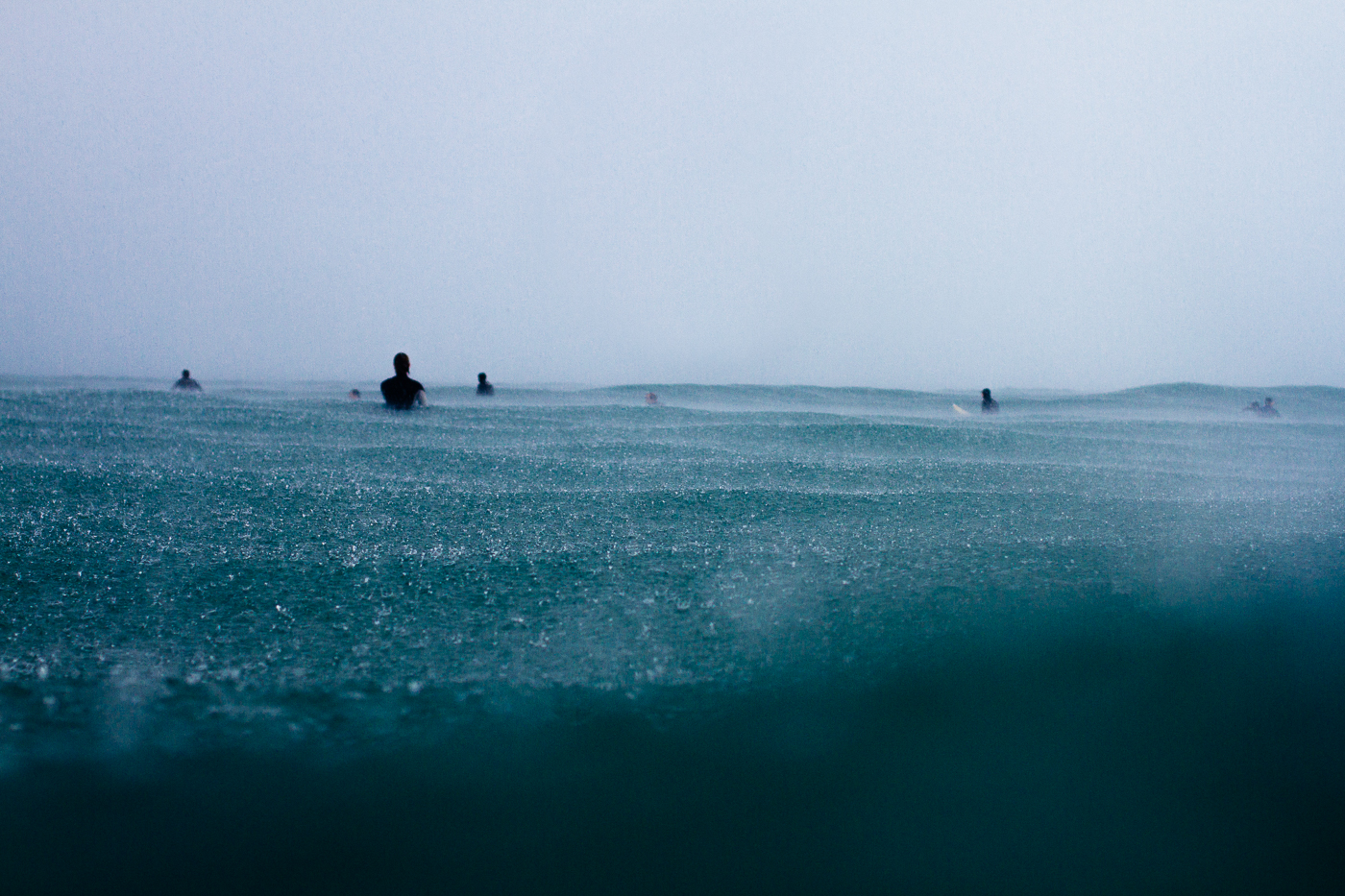 What's the magical attraction of Cornwall to you?
Having a familiar relationship with a place is pretty magic. Especially somewhere like Cornwall. Getting to know it in different seasons, learning its moods. Like the Northwest of Scotland or parts of Southern Ireland, Cornwall still feels wild – there are still places that haven't been messed with. Its history is unavoidable and its character is rich.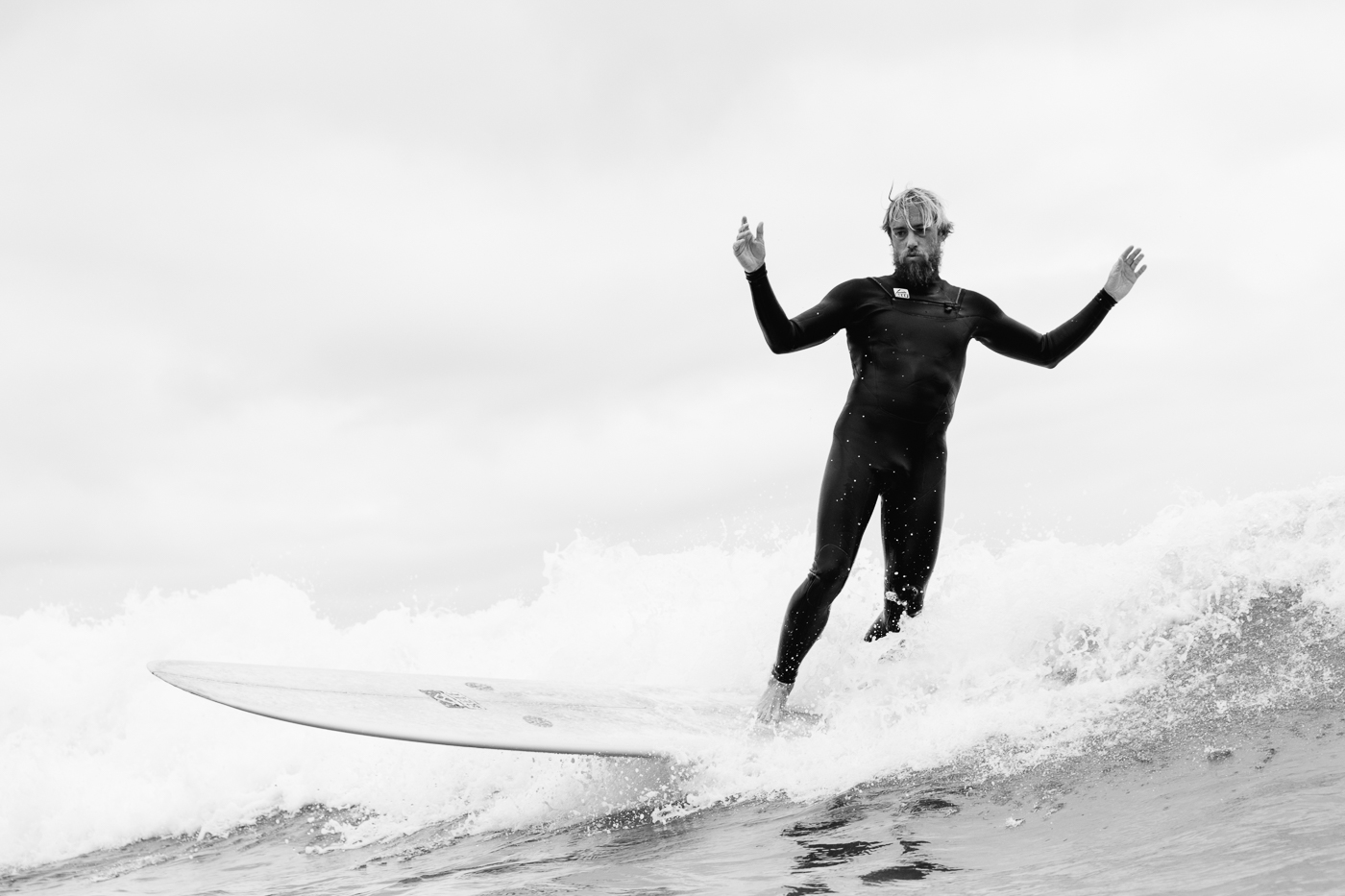 If someone's looking, where can they most likely find you?
This is easy to answer at the moment! Since April 20 I've been splitting my time between Cornwall and Devon, and look to be doing more of the same until travel gets a bit easier. After that, somewhere in Europe in my van is on the agenda.
Thanks so much for taking the time, Toby, it's great to get to know you a little better!
Find Tony Butler's photos throughout our Surf & Travel Guide to Great Britain & Ireland.
For more of Toby's work:
i. tobybutlerphoto